Dog Activities
Watch adrenaline-packed action from top dogs and world champions across the disciplines, from Action Sports to Field and Trail. Competitions and demonstrations will be held throughout each day of the event. Introduce your dog to new tricks on the day with 'have-a-go' sessions in Agility, Flyball, Fastest Dog and CaniCross open to everyone.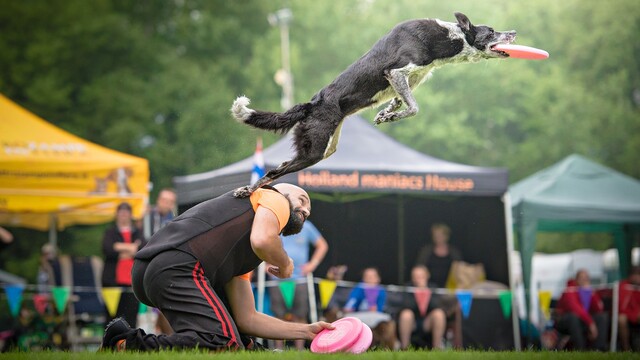 Disc Dog / Frisbee
Goodwoof is the only place to see incredible, world-class Disc Dog action. World and European champion Adrian Stoica and his team of award-winning dogs will make a much-anticipated UK debut at Goodwoof, showcasing spectacular skills in distance and freestyle catching – combining choreographed moves with dynamic multi-disc displays that depend on the unique harmony between handler and dogs.
Have a Go at Disc Dog: With the benefits of mental stimulation and challenging aerobic exercise, this sport is a fun way to keep your dog (and anyone who might be watching) entertained.
---
Heelwork to Music
Dancing duets marry obedience with stunning showmanship in Heelwork to Music – one of the fastest-growing canine activities and undoubtedly one of the most entertaining. One of only a handful of those in the UK to be recognised as a Heelwork to Music Kennel Club Accredited Trainer at Advanced Level, Gina Pink will bring her wealth of expertise to the Goodwoof Area showcasing heelwork routines beautifully choreographed to music.
Have a Go at Heelwork: An ideal way to provide a playful challenge for your canine companion, Heelwork to Music is a chance to explore what your dog can do as you find a sense of rhythm together.
---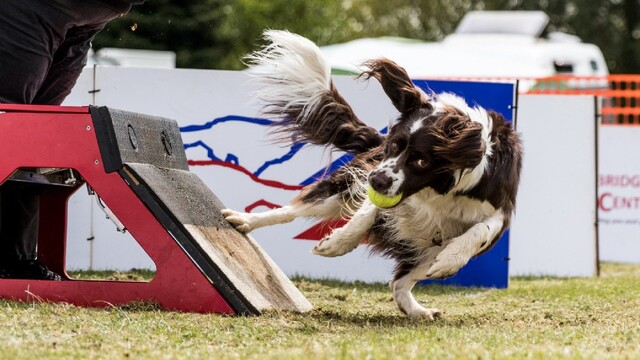 Flyball
High energy meets supreme speed as Goodwoof welcomes the world's fastest Flyball teams to the Action Sports Area across the weekend. Blink and you might miss this breath-taking head-to-head competition as canine athletes race over a set of hurdles, release a ball from a trigger box and return to tag a teammate in this rapid relay.
Have a Go at Flyball: This sport welcomes all shapes and sizes, and is suitable for almost all breeds, providing a wonderfully inclusive and enjoyable community where like-minded dog-lovers can get involved.
---
Chien Charmant
A competition celebrating both distinctive style and the bond between dog and owner, Goodwoof's Chien Charmant will honour the most charismatic and charming dog/human partnerships.
Characterised by cool with an easy affinity and effortless allure, Chien Charmant entries will be carefully shortlisted, with an eye for personality, elegance and the shared flair that makes each Dog and human pair much more than the simple sum of its parts.
---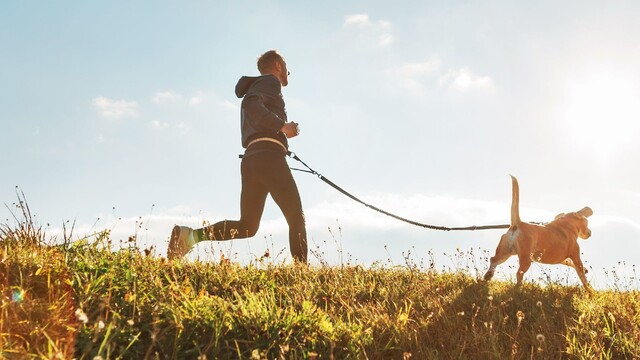 CaniSports
Goodwoof will welcome the world's best dog and human teams to compete head-to-head in CaniCross, CaniBike and CaniScoot – dog-powered sports where the dog is harnessed to its human via a bungee line, leading the pair in a running, biking or scooting race. We've designed special CaniSports courses to make the most of the varied terrain of the estate – the perfect backdrop for high-energy action.
Have a Go at CaniSports: Tremendously good fun and a great way to get fit by enjoying off-road adventures running, biking or scooting with your dog, you'll get to know the specialist equipment and how to use directional cues before trying a short interval of CaniSport with your dog.
---
Follow us on social media
Goodwoof
Saturday 28 May & Sunday 29 May 2022
Gates open 1000hrs
Gates close 1700hrs
The Kennels, Chichester, West Sussex, PO18 0PN