Barkitecture
An exclusive competition presented by Mastercard. Auction held by Bonhams.
Don't miss out on this years' amazing creations.
Presented by Mastercard
At the heart of Goodwoof will be our unique competition, Barkitecture, back for 2023! A stunning architectural exhibition and competition of cutting-edge kennel design. Kevin McCloud MBE, who is spearheading the project with the Duke of Richmond, has invited architects from around the globe to enter.
Barkitecture 2023
Barkitecture returns for 2023, with a brand new theme 'A Companion Piece – Dogs at Work'.
This year we are looking for kennel designs that demonstrate how important dogs have become a part of our lifestyle and wellbeing, and represents the spaces we create for them within our homes, workplaces and schedules.
A collection of architects return to showcase their amazing and inspirational creations at Goodwoof.
---
A unique competition with Mastercard
Architects are competing for the 'Single Kennel Design Award' for a single or double occupancy dog kennel, open to registered architecture or design practices, especially those with dogs.
Practices are then expected to design, construct or procure their kennel for a maximum construction budget of £250 and deliver the finished kennel to Goodwood for the event. All kennels will then be auctioned at The Bonhams Barkitecture Auction for our charity, Pets As Therapy.
---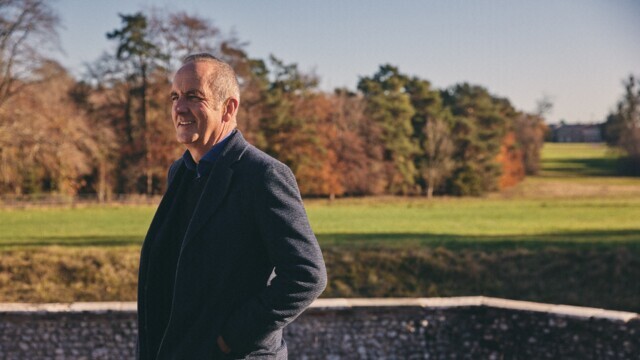 Dog Pod by Rogers Stirk Harbour + Partners
This bold space age look offers style and comfort to its canine resident. Adjustable lunar landing pad feet allow the kennels to be raised off the ground in colder weather whilst allowing cooling air circulation on warmer days. An aluminium canopy sits on top allowing solar heat gain to dissipate and the futuristic orange canopy can slide forward to create a shaded alfresco dining area.
Love From by Jony Ive and Marc Newson
Jony and Marc, with their beloved dogs, Dave Ive and Scruff Newson in mind, tore up the concept of the doghouse reducing the concept to an open-ended structure with functionality at the fore. Its smooth geometric lines and softened edges, lined with suitably soft bedding, made for an eye catching stand out piece for hounds with an eye for modern industrial design.
One Woman and Her Dog by Hawkes Architecture
This practice focused on delivering what the dog would most crave – i.e., proximity to its family. The resulting kennel involved a sustainable use of waste and redeployed materials in a fun, practical and creative way. The resulting structure was a recyclable survival vessel for two which can take a dog and its master across any terrain providing shelter and clean water.
Dome Home by Foster + Partners
This kennels features a geodesic shell structure inspired by the work of Buckminster Fuller, a celebrated and award-winning architect and scientist from America. Constructed from engineered cherry wood, it was hand-built by a master furniture maker. The bowl-shaped interior has a flexible. Removable padded fabric liner that creates a snug yet practical interior for any canine resident.
Doge's House by Linley
With all the grandeur you'd expect from a David Linley Design, Doge's House is an ode to Doge's Palace in Venice and is richly decorated in the Venetian Gothic style. Just as impressive as its namesake, this plywood palazzo is both imposing and cosy thanks to its snug interior.
Le Dogular by Hopkins Architects
This kennel sets out the harmonic proportions and critical dimensions that underline the geometry of the kennel design with elevation, privacy and comfort as the core principles. The zero waste monocoque construction in plywood is affordable, lightweight and quick to assemble.
Rolo's Office Doghouse by Haysom Ward Miller Architects
This house was designed to replicate a dog's favourite napping place in the office, the back of a chair, providing a warm, comfortable, elevated spot. For sustainability and style in mind, the team upcycled an office chair adding a low embodied energy timber house with its own period -appropriate office drinks cabinet. It can be rotated to follow the sun and can easily be tucked away out of sight.
Suffolk Sight-Hound Hut by Sanei Hopkins Architects
The Suffolk Sight-Hound Hut is designed to echo the inward curling form of the practice's young whippet, Nimroo. The cocoon like, corrugated metal external walls are formed from two curved pieces sturdy enough to support a roof without the need for additional support. The diminishing radii of the two forms creates a natural gap – a seamless opening for access into the doghouse.
Nook by Stanton Williams Ltd
The Nook is a kennel for the contemporary city dweller where apartment living is common and every square millimetre counts. It is part kennel, part armchair and part side-table. Made of sustainably sourced Latvian plywood, the kennel is durable and environmentally sound.
101 Dowels in Motion by Hall + Bednarczyk
The team, with Sable, the Sprocker Spaniel as their client, created something beautiful and fun but also durable and hygienic and elegant in monochrome. Emulating the simplicity of the Welsh Stick Chair, the idea of black timber rods snaking their way around a dog, led to the description of 'Dowels in Motion' and finally, 101 of them in celebration of the most stylish dog film ever made.
Bonehenge by Birds Portchmouth Russum Architects
This sustainable, regal palace, designed for Illy, the Blue Roan Cocker Spaniel, enjoys generous natural light and harvests fresh rainwater for the drinking bowl. Inspired by the cocker spaniel's hereditary characteristics of circling prior to settling down to rest, the elliptical shape resulted.
---
The Winner of Barkitecture 2022
The winner was Birds Portchmouth Russum Architects with Bonehenge, sold for £2,500 in the Bonhams Barkitecture Auction on Sunday 29 May at Goodwoof. A little palace for cocker-spaniel, Illy, the challenge was to create something sustainable, provide generous lighting and harvest fresh rainwater for her dog bowl.
A total of over £30,000 was raised from the Bonhams Barkitecture Auction in aid of the Goodwoof charity partner, Pets As Therapy.
---
Goodwoof
May 2024 - Dates to be confirmed soon
The Kennels, Chichester, West Sussex, PO18 0PN