Barkitecture
An exclusive competition presented by Mastercard. Auction held by Bonhams.
Don't miss out on this years' amazing creations.
Presented by Mastercard
At the heart of Goodwoof will be our unique competition, Barkitecture! A stunning architectural exhibition and competition of cutting-edge kennel design. Kevin McCloud MBE, who is spearheading the project with the Duke of Richmond, has invited architects from around the globe to enter.
Barkitecture 2023
Barkitecture returns for 2024, with a brand new theme 'Lounge Access: For the Jet-Setting Dog'.
Architects are being challenged to design a kennel that creates a sense of calm and tranquillity for dogs accompanying us on our travels. Now more than ever - whether short or long haul - our jet-setting pets are becoming frequent travellers on planes, trains, bikes and automobiles.
A collection of architects return to showcase their amazing and inspirational creations at Goodwoof.
---
A unique competition with Mastercard
Architects are competing for the 'Single Kennel Design Award' for a single or double occupancy dog kennel, open to registered architecture or design practices, especially those with dogs.
Practices are then expected to design, construct or procure their kennel for a maximum construction budget of £250 and deliver the finished kennel to Goodwood for the event. All kennels will then be auctioned at The Bonhams Barkitecture Auction for our charity, Jai Dog Rescue.
---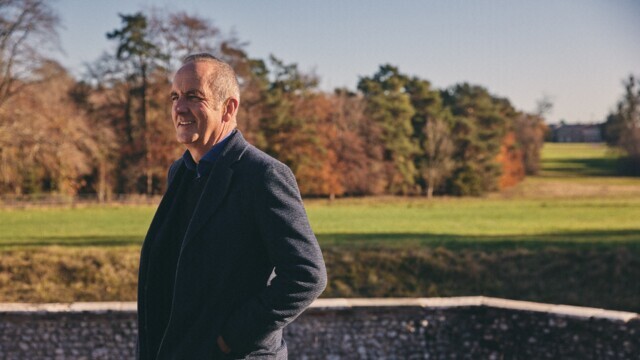 Fetch by Coffey Architects
This innovative design is a celebration of our dogs greatest love: playing fetch. Inspired by the idea of creating a kennel that expresses the joy and companionship of playing with our dogs, the design concept started with the traditional Gabon wall – a mesh basket structure filled with rocks or other natural materials that has been used for centuries in architecture, landscaping, and engineering. But instead of rocks, the design was replaced with tennis balls, creating a playful, fun and beautiful basket of balls, the things dogs love most.
With "Fetch," you can store your dog's toys and create an architectural refuge for them to rest. The design is a friendly and fun reminder of the importance of having fun with our dogs, leading to improved well-being for both our furry friends and office staff.
This unique kennel was bought by Simon Drayson at this year's event for £1,000.
Barc by Foster + Partners
Barc is a flat pack plywood kennel that is designed to meet the needs of the flexible, modern workplace. The lightweight kennel is made up of a few simple components, which can be easily put together, taken apart and stored efficiently. Beyond the office, Barc can also be installed in the home or garden, creating a familiar space for canine companions, at their owners side. The sparing use of material and detail is rooted in the idea of sustainability – to do more with less.
This stylish kennel was bought by The Duke of Richmond at this year's event for £3,200.
Agility Desk by George and James Architects X Fisher Morrison
This design is based around building a connection between your dog and your workplace. Dogs bring excitement, energy and companionship to an office environment. Research has shown that they help reduce stress whilst increasing cognitive ability and productivity in the office by triggering the release of cortisol in the human brain when we interact with them, so it really is a win on many levels.
The Agility Desk was bought by Tim Breyer at this year's event for £1,100.
Bask! by Gianni Botsford Architects
'Bask' is a contribution to the reverence for the sun in the canine world; a temple for our canine friends to join us in our worship end enjoyment of the sun. It is a double occupancy kennel formed in plan from the winter and summer sun paths of the UK, at a latitude of 51.5° North. These two curved sun paths rise in elevation to almost meet, where an arced slot depicts the sun path at the Equinox. Long and soft cushions provide comfort and express the six-monthly sun arcs between summer and winter.
This beautifully designed kennel was bought by The Duke of Richmond at this year's event for £900.
Wig Wag by Hall + Bednarczyk
The teepee inspired design is a nod to the increasingly nomadic existence of office dogs. The kennel is transportable with a round timber base measuring eight hundred millimetre diameter with a detachable one metre tall timber bone, modelled on a Stegosaurus femur. The stretchy Lycra wigwag creates a taut conic form when tensioned with a spliced rope handle that loops over the bone.
This special kennel was bought by Cheryl Uggles at this year's event for £800.
The Dogs by Hawkes
An elegantly hand crafted form for two or more dogs. Inspired by Barbara Hepworth, Salvador Dali & weaver birds, this fluid organic piece is beautifully crafted in Kent from sustainably harvested Rye willow and locally sourced Romney Marsh sheep's wool.
This crafty kennel was bought by Peter Forfar at this year's event for £2,200.
Nomad Juno by Henning
This is designed to be a piece of furniture that dog and owner can share. It comes as a flat-pack piece that can quickly be assembled, no screws, no glue , no tools. The idea is for the dog to have cosy space right behind the warming back of its owner. There's a little entrance on the rear left of the chair and another on the right-hand of the seat back. The dog can pop out under the right arm of its owner, to be stroked or it can retreat into its burrow. Dog and owner can warm each other like a passive heating system.
Nomad Juno was bought by Steven Sparks at this year's event for £500.
The Hound Lounge Chair by Hopkins Architects
The design provides a companionable arrangement for dog and owner. By combining the kennel and armchair both occupants are afforded the same level of comfort and luxury. Companion and best friend are given equal status. Elegant curves and fine detailing make this kennel an ergonomic and prestigious Hound Lounge Chair.
This luxurious kennel was bought by Tim Breyer at this year's event for £1,800.
Juno's Jig by KnoxBhanvan
This kennel designed for KnoxBhavan's office dog Juno, seeks to be an adaptable, comfortable Jig; a bed for a working-dog working in architecture. Conceived in natural low carbon materials, Juno's Jig takes different forms: A weatherproof stand-up/sit-down desk for sharing drawings and drinking coffee; an exacting archive for ply profiles that set out the corbelled brick facade of a new house in Peckham; and a warm and comfortable bed of wood fibre insulation for the end of the day. It is a design for an architect's dog, on-site building a new house and in the office relaxing with a view of the fish.
Juno's Jig was bought by The Duke of Richmond at this year's event for £550.
Dumfries House Kennel by The Prince's Foundation
The kennel has been built by the estate carpentry team at Dumfries House which includes alumni from our education and training programs. The design of the kennel is modelled on the design principles that have been incorporated into the new agricultural buildings constructed on Dumfries House Estate. The kennel has been built using larch and cedar which has been sourced from the estate.
The beautifully designed Dumfries House Kennel was bought by Andrea Salvato at this year's event for £4,000.
The Poochchair by Roger Strik & Harbour
The design takes its clues from the billions of corks that are popped a year, the HMV Nipper painting, wheeled toddler trainers, strollers alike. The kennel is designed to be wheeled to allow for movement around the house, garden, pavement, city, place of work. The gramophone in the corner, the deployable conversation piece, take you back to dog days of the past.
This uniquely designed kennel was bought by The Duke of Richmond at this year's event for £1,100.
Bowowhaus by Conran & Partners
The Bowowhaus nomadic German Shepherd's hut was conceived and designed by Sebastian Conran of Conran & Partners in collaboration with Beta Design Office who undertook the design implementation and build. The inspiration was a working shepherds dog; the idea was that a dog would be able to take their family home with them by using battery powered electric assist wheels similar to those found in e-bikes.
The quirky kennel was bought by Rimple Badiani at this year's event for £3,200.
The Dogpartment by Audrey Ma & Maria Trif
The Dogpartment is an expandable "jack-in-the-box" rendered in lightweight and sustainable materials, for ease of transport with additional insulation for comfort. It is a modular build where each panel is attached via a simple wooden hinge system that operates the lateral doors, making the space much comfortable while also holding your pups work tools. When fully closed, it stands at a height of 400 millimetre and its modular design and open-able sides means it can be easily resized.
The Dogapartment was bought by Jonathan Fairhurst at this year's event for £500.
Chaise Lounge by Sanei Hopkins
The design is based on the architects experience with their retired Military Working Dog, Dex the German Shepherd. They describe how Dex adjusted to life after Military service and got used to normality. The design of this kennel is inspired to be open and available for any dog to sit, sleep, stand and crawl underneath.
This stunning kennel was bought by Andrea Salvato at this year's event for £700.
Dog Pod by Xii Lim and Jacky Li
Dog Pods give our beloved canines a sleek, tennis-ball inspired modern pad, with no more days of being told off for being on the furniture, where they can laze and feel unrestricted.
Babboe Bike by Charlie Mackesy X James Middleton X Babboe
Charlie Mackesy has joined forces with entrepreneur and therapy dog breeder, James Middleton, to create a one-off Babboe cargo bike, exclusively for Goodwoof. Babboe have kindly provided their top of the range "Babboe Dog", a stunning transportation vehicle, for the chicest humans and their companions.
This special kennel was bought by Rod Fabricius at this year's event for £4,500.
---
The Winner of Barkitecture 2023
The winner was Gianni Botsford Architects with BASK, sold for £900 in the Bonhams Barkitecture Auction presented by Mastercard. The kennel that sold for the most was the 'Babboe Bike' designed by Charlie Mackesy, James Middleton and Babboe for £4,500.
A total of over £26,050 was raised from the Bonhams Barkitecture Auction in aid of the Goodwoof charity partner, Pets As Therapy.
---
Goodwoof
Saturday 18 & Sunday 19 May 2024
The Kennels, Chichester, West Sussex, PO18 0PN