Meetings and Events
A unique place to do business, build relationships with clients or celebrate with colleagues in a quintessentially English setting
Sustainability

Planning for the next 300 years. As Stewards of 12,000 acres of land we're responsible for the countryside over the long term.

Field to Fork

Our field-to-fork philosophy is at the heart of everything we do, resulting in delicious organic produce.

Wellbeing

Event packages incorporating aspects of our Goodwood Health Programme to ensure the wellbeing of our delegates.

Environment

We house over 60,000 bees to promote wildflower pollination and our biomass boilers are fuelled by estate wood chippings.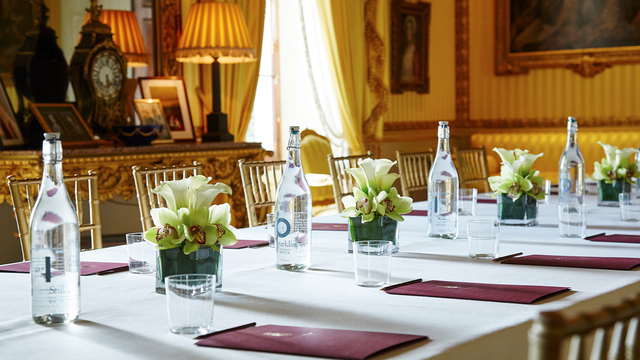 Our Venues
Whatever the occasion, across the Goodwood Estate we have an extensive range of venues perfect for your meeting or event.
From the stately Goodwood House which is the ideal venue for balls, dinners and meetings alike, to the picturesque Goodwood Hotel which is a superb venue for all events big and small, including corporate away days, dinners and conferences and meetings.
---
Corporate Experiences
Bring your team together and escape the office for a wonderful shared corporate experience at Goodwood.
From a competitive golf day, to an adrenaline filled driving experience at the Goodwood Motor Circuit. There is so much to experience across the Goodwood Estate and there's something for everyone.
---
Breath Walk across the Goodwood Estate (60 minutes) – The breath walk involves syncing your breath with every step. The benefits of a breath walking are: increased energy levels, mood control, refined mental clarity and feelings of connectedness.
From £255
Sound Bath (45 minutes) – AThis involves using sound, music and specialist instruments played in therapeutic ways, combined with deep, self-reflection techniques to improve health and wellbeing.
From £145
Digestive Yoga (60 minutes) – Digestive Yoga involves yoga movements that massage the digestive organs by increasing blood flow, oxygen delivery, it also aids the process of peristalsis. This session benefits the digestive system through twisting poses, inversions and forward folds.
From £185
Yogalates (60 minutes) - A fitness routine that combines Pilates exercises with the postures and breathing techniques of yoga.
From £185
Goodwood Hike (60 minutes) - With over 11,000 acres, Goodwood is the perfect place to venture out and explore Goodwood with its stunning woodland and panoramic views whilst breathing in the Sussex air.
From £255
Burn 500 (30 minutes) - This is a quick simple workout- burn 500 calories in 30 mins!
From £130
Sunrise or sunset yoga (60 minutes) - Combines the benefits of yoga's physical exercises with the positive energy of meditation practice.
From £185
Maximum participant level per group is 14. Additional guests can be added but will be subject to a fee of £60 per 12 additional guests.
Wim Hof Fundamentals (3 hours) – Put yourself in the expert hands of a certified WHM Instructor to learn the 3 pillars of the Wim Hof Method: Breathing Technique, Cold Exposure & Commitment. Find out how you can utilize oxygen and cold exposure to optimize body & mind, and learn about the underlying physiology. From £1600

Revolution Resilience (2.5 hours) – Take the journey with Kate Fismer our Resilience expert. Revolution Resilience helps individuals and businesses spot the warning signs of exhaustion and burnout (both at work and at home) supported by interactive learning opportunities that provide insights and teach techniques to enhance energy and resilience through better recovery. From £950

Gut Health Nutritionist (2 hours) – From energy regulation, weight management and immune response, to stress resilience, sleep quality and a happy brain, the tenets of good health all start with a robust and balanced gut. Includes a hosted lunch or dinner with our gut health specialist with skilfully designed menus that draw on Goodwood's field-to-fork philosophy and organic farming principles, healing your gut with sustainably sourced produce of the very highest quality. From £750 (does not include thes cost of the meal)
Menopause For You (1 hour) -This session goes through the what, when, why, where and how of Menopause and Perimenopause. We look at how we can start reducing and managing symptoms from a whole body perspective. From £500.
Fermentation Workshop (30 minutes) - Fermented foods are great for supporting and feeding a healthy gut microbiome. During this session you will learn how to make sauerkraut, understand the processes of fermentation while making your own to take home and enjoy. From £299.
Mindfulness Masterclass (1.5 hours) - We spend most of our time functioning unconsciously on autopilot striving to achieve something in the future and harking back to a perception we hold of what the past was like. We can be so locked into past memory and future fantasy, that we overlook the present. Mindfulness is about stepping into 'conscious awareness', attend to our 'inner landscape' of thoughts, feelings and sensations, without being caught up in them. Living more in the here and now provides the opportunity to experience the fullness of life. From £950.
Randox Health Check – The Randox pop-up is coming to Goodwood. We understand the importance of improving the health of your workforce. Our mission is to enhance your business with our bespoke Goodwood Blood Panel which contains 31 markers linked to key health areas such as liver and kidney function, nutrition, metabolic status and inflammation. Price on application.

Nutritional Consultation (1 Hour per person) In this private 1-1 consultation, our world-class specialists will spend time going through your lifestyle and health status to tailor their advice to suit your personal health needs. From £175.
First Beat™ (1 Hour) Connect the dots between your body's reactions and daily activities. It turns stress, recovery, sleep and exercise data into actionable insights, inspiring positive lifestyle changes. This requires pre testing before arrival. The 1 hours session with our specialist will go through the results. From £495.
Body Composition Analysis (45 minutes per person) - A report that takes a look at many body markers. A personal training consultant will give you a plan and lifestyle goals moving forward to take home. From £79.
Goodwood Consulting
Creating game-changing opportunities for global businesses in property, sports, entertainment & events
Explore Our Expertise